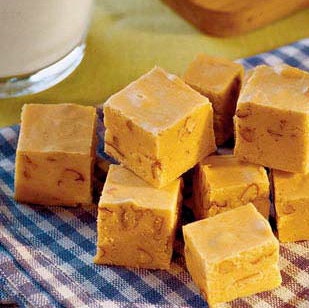 I just made this today and it turned out so delicious that I added it to my shop as soon a I had a bite. Soooo yummy!
http://www.etsy.com/listing/82888932/pumpkin-and-almond-fantasy-fudge-1-pound
Ingredients
3 cups

sugar

3/4 cup

melted butter

2/3 cup

evaporated milk

1/2 cup

canned pumpkin

2 tablespoons

corn syrup

1 teaspoon

pumpkin pie spice

1

(12-ounce) package white chocolate morsels

1

(7-ounce) jar marshmallow crème

1 cup

chopped pecans, toasted

1 teaspoon

vanilla extract
Preparation
Stir together first 6 ingredients in a 3 1/2-quart saucepan over medium-high heat, and cook, stirring constantly, until mixture comes to a boil. Cook, stirring constantly, until a candy thermometer registers 234° (soft-ball stage) or for about 12 minutes.
Remove pan from heat; stir in remaining ingredients until well blended. Pour into a greased aluminum foil-lined 9-inch square pan. Let stand 2 hours or until completely cool; cut fudge into squares.

Notes: Line pan with aluminum foil before you begin to cook the fudge. Once the candy thermometer reaches 234° and the remaining ingredients are added, quickly spoon the fudge into the pan.